Antenatal service in the clinic "New Life"
Antenatal service in the clinic "New Life"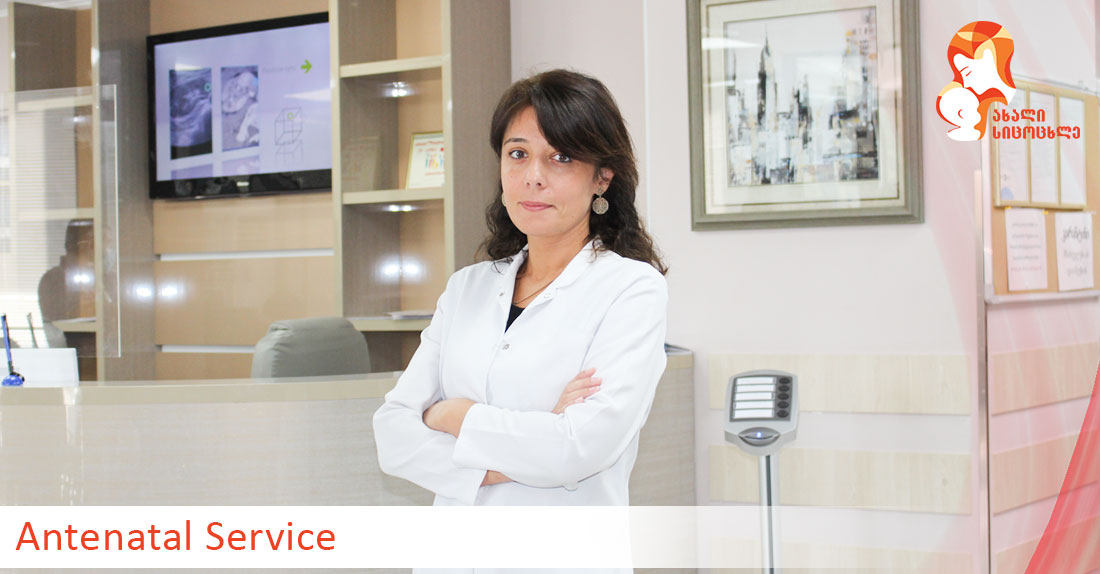 New Life" Clinic offers full service and a comfortable environment for pregnant women
Pregnancy is one of the most important events in a person's life, which is primarily associated with the greatest responsibility. A parent must start caring for a child from the time of pregnancy. One of the main conditions for the normal development of the fetus is antenatal care or visits to the doctor to monitor the condition of the pregnant woman and the fetus and to avoid possible complications.
Tatia Tskhomelidze, Head of the Antenatal Department of the "New Life" Clinic, talks about antenatal service.
- At what week of pregnancy should a pregnant woman consult a doctor?
– It is advisable to consult a doctor before the 13th week of pregnancy, as well as to diagnose pregnancy and determine the term as early as possible, as the first weeks of pregnancy are more responsible and critical.
– What kind of researches is needed for early pregnancy?
– The fetal organs are formed in the first months, so it is necessary to conduct appropriate medical examinations to get the right information. Ultrasound examination is one of the diagnostic methods by which the fetus is examined. Ultrasound can visualize various pathologies, allowing the physician to determine treatment tactics. Our clinic is equipped with modern technologies in line with world standards. We use General Electric's latest ultrasound machine - Voluson E10, which is one of the best in the world and is even called a new legend. The Voluson E10 allows us to examine the patient in 2D, 3D, 4D mode and get fetus images in real-time. The importance of 4D research has increased significantly as it allows us to examine various fetal pathologies from an early age.
– Which examinations are free for pregnant women?
–Pregnant women have an opportunity of 8 free visits to the doctor. Visits include surveys, which are also free. Covered with a voucher:
8 consultations with an obstetrician-gynecologist;
General blood test;
Cultural examination of urine;
Determination of blood group and Rhesus;
Rhesus antibody testing in Rhesus-negative women at the first and third antenatal visits;
Screening tests (hepatitis B virus, hepatitis C virus, HIV, and syphilis);
Ultrasound examination of the first and second antenatal visits with the highest quality high-tech ultrasound machine - Voluson E 10;
Small test for glucose tolerance;
Determination of protein in urine at the 6th antenatal visit;
Determination of hemoglobin in the blood.
Also, if necessary, pregnant women at risk will receive free genetic screening.
Our clinic has a full range of services available: pregnancy planning, pregnancy management, childbirth, and newborn care - all this is gathered in one space. A pregnant woman is informed from the very first visit and gets used to the environment where she has to give birth, which is very important.
– What additional examinations are necessary during pregnancy?
–Georgia is an endemic center of iodine deficiency. Numerous studies are needed during antenatal care, including the timely diagnosis and proper treatment of one of the most important thyroid and related pathologies. It is also important to manage and control gestational so-called gestational diabetes in pregnant women and weight control. Excess weight gain during pregnancy is associated with many complications, so in our clinic, the patient's pregnancy is managed by a qualified endocrinologist together with an obstetrician-gynecologist.
Iron deficiency anemia is also common in Georgia (in some regions its rate even reaches 70-75%), therefore, regular examination of hemoglobin, joint observation of a hematologist, and an obstetrician-gynecologist allow timely diagnosis and correct treatment of possible diseases of the blood of pregnant women. The outpatient department of our clinic works on a team basis, provides full service to the pregnant woman, and, most importantly, is in a warm and comfortable environment.
– What can you tell us directly about childbirth?
–For childbirth to be comfortable, it is necessary to follow the modern and basic principles of obstetrics. The woman and her loved ones should be thoroughly informed about the birth process. The famous triangle "Fear-Tension-Pain" of the 20th-century British obstetrician Grantley Dick Reed reflects the interaction of these three factors, according to which, the less a woman is afraid, the less she is tense and, consequently, the less she feels pain during childbirth. The birth-mother feels comfortable and well in a familiar environment, so the patient gets acquainted from the first day and gets used to the environment where she should give birth. Our clinic provides complete comfort to women during this difficult process.
Wish you health!