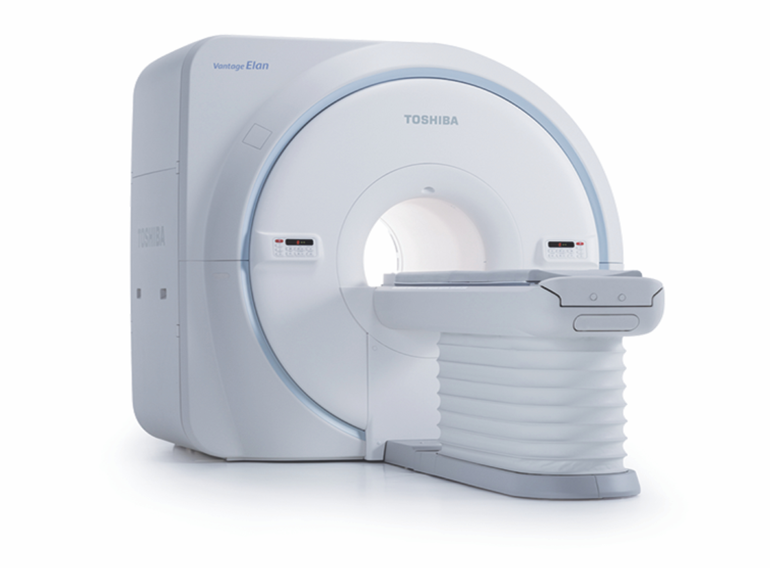 TOSHIBA vantage Elan (1.5 T.)
The brand new Magnetic Resonance Tomograph-VANTAGE ELAN, model2015-year, of TOSHIBA, which is one of the best in the world market, is functioning at the National Center of Surgery. The device is equipped with powerful technological packages and the latest scanning modes. It is distinguished by high quality of the image and the fastest visualization. It helps to diagnose neurologic, orthopedic, angiologic, oncologic and gynecologic conditions.
Magnetic resonance imaging plays an important role in observing patients with oncologic or other chronic diseases.
It should be noted that this method of imaging is absolutely safe for health, because X-rays or ionizing radiation are not used during screening of human tissues and internal organs.
The best model of MRI is presented at the National Center of Surgery - a new generation of magnetic resonance imaging, which was selected for our clinic for the following advantages and innovations:
1. The internal diameter of the gantry Vantage Elan (where the patient is placed during the study) is the largest in its class.
The inside diameter of the open gantry Vantage Elan is 63 centimeters, which is one of the main advantages, compared to other systems of its class, such as GE Signa HDx, Brivo MR355, Hitachi Echelon, Philips Multiva, Siemens Avanto Q, Essenza. This is especially important for patients with claustrophobia. Often the patient refuses to do MRI scan for this reason alone.
Lighting – the special internal lighting system dismisses the feeling of a closed space, which is also an important advantage.
Ventilation – the ventilation system within the gantry creates maximum comfort for patient during scanning.
Bed / table on which the patient is placed - repeats the anatomical shape of the person, which provides additional comfort for the patient
Light coils (a device that is placed on the patient's body) – which are customized to increase comfort for patients and medical team members.
2. Unique technology - PIANISSIMO Σ reduces (almost completely) the noise during scanning that is much more comfortable for the patient.