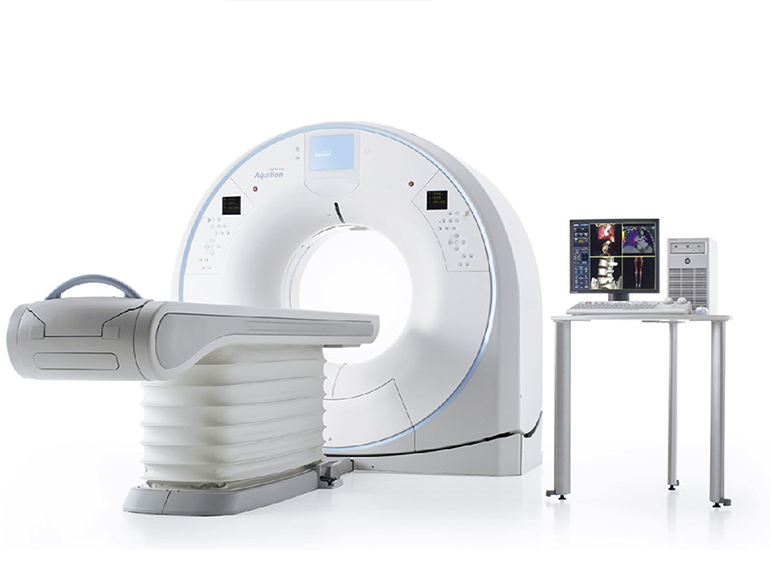 Toshiba Aquilion Lightning SP
The National Center of Surgery "New Life" clinic is outfitted with ultramodern, 160-sided computed tomography. The Toshiba Aquilion Lightning SP tomography system is distinguished by its maximum clinical capabilities and the fastest scanning function.
What do 160 layers imply, and how much load is there? When compared to 64- and 80-slice CT scanners, the 160-slice Aquilion Lightning SP dramatically reduces scanning time. The computed tomography scanner at our clinic covers more of the body in one turn and thus covers more research areas much quicker than previous systems. It is critical for cardiology studies to capture one heart cycle!
It is also worth noting that fast scanning decreases the amount of contrast necessary for research, as well as movement artifacts because the research is performed so rapidly that the patient has to hold their breath for a very short period of time - all of this has a beneficial impact on the quality of imaging and diagnosis.
When it comes to computed tomography research, the most key aspect is visualization quality. One of the features that distinguish the "New Life" CT scanner from other models is that the Lightning SP is equipped with a wide kilowatt (kW) and MA (milliampere) range, which can be modified manually by the operator as well as automatically with Sure Exposure mode. This mode automatically determines the appropriate radiation intensity for each patient, making research more cost-effective and patient-safe.
The computed tomography at the clinic is outfitted with the fourth-generation AIDR 3D reconstruction algorithm, which decreases the radiation dose by 75%, processes the image with a new algorithm, and speeds up the processing process. It is also critical that this algorithm is automatically stimulated in all research protocols, as these functions make research easier, quicker, and more qualitative, and, most importantly, safer.
The "New Life" CT scanner features the most recent PUREVISION detector technology, which enhances sensitivity by 40%. We can get the best quality image with the help of all of these important functions.
The computed tomography of The "New Life" has the most clinical capabilities and one of the modes for removing iron artifacts. In spiral scan mode, the Toshiba Aquilion Lightning SP removes metal artifacts.
The clinic's CT allows for the early diagnosis, detection, and prevention of many anomalies and pathologies.