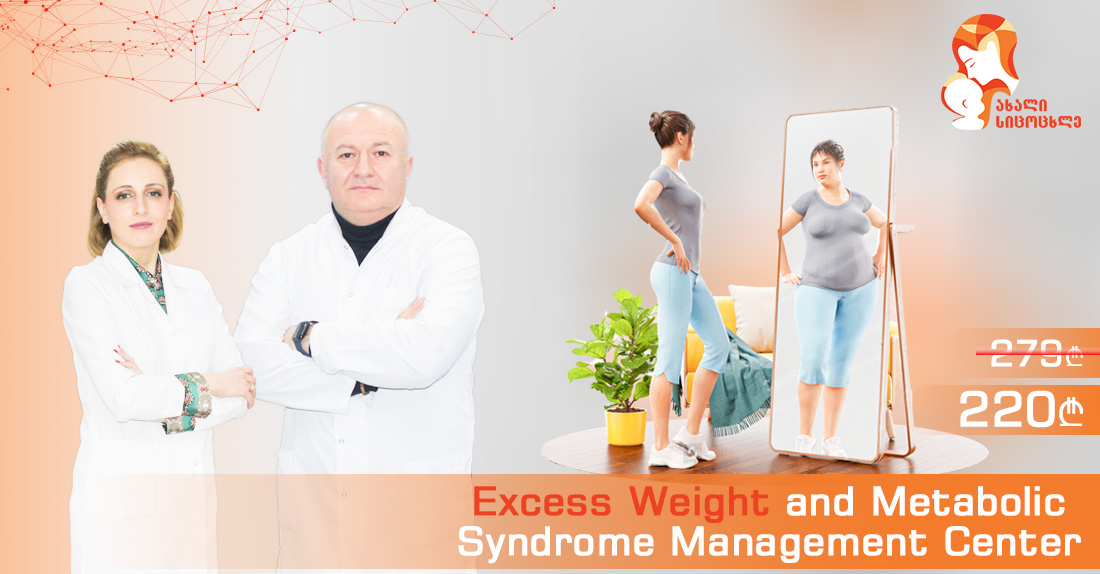 Promotion for excess weight people
Excess Weight and Metabolic Syndrome Management Center of The "New Life" Clinic provides a promotion, through which you will be able to undertake a comprehensive clinical-laboratory and instrumental examination after consulting with a doctor-endocrinologist/nutritionist. Specialist consultations are also available.
Every Wednesday and Friday, you may utilize the promotion for 220 GEL instead of 279!
The following consultations and research are part of the promotion:
Consultation of an endocrinologist;
Consultation with a bariatric surgeon;
HOMA Index Determination;
TSH analysis;
A comprehensive lipid spectrum examination;
Vitamin D analysis.
Excess weight and bariatric surgery
Obesity is a complex disease that occurs when the body accumulates a substantial quantity of fat. It is not only an aesthetic issue, but it is also a medical one that raises the risk of various diseases such as:
Type 2 diabetes;
High blood pressure;
High levels of triglycerides and low-density lipoprotein;
Metabolic syndrome;
Cardiovascular diseases;
Stroke;
Tumor;
Breathing problems;
Gynecological problems (infertility);
Erectile dysfunction and decreased libido;
Non-alcoholic fatty liver disease.
It has a negative impact on health and its quality, as well as life expectancy, mental and psychological state.
When should you see a doctor?
If you have excess weight or weight-related health issues. As an example:
Sleep disturbances (obesity is linked to sleep apnea, which causes daytime tiredness and insufficient restful sleep);
Back and/or joint pain;
Excessive sweating;
Heat intolerance;
Fatigue;
Depression;
Swelling of the lower extremities;
Infections in the skin wrinkles;
Feeling of suffocation.
"New Life" Clinic has an Excess Weight and Metabolic Syndrome Management Center, where the leading specialists of the clinic work:
Ana Kopaleishvili - Endocrinologist, Nutritionist;
Jaba Babaev - General, laparoscopic and bariatric surgeon, oncologist, head of the Surgical Department.
With the help of "New Life" specialists, you can manage excess weight and metabolic syndrome in both conservative and surgical (bariatric) ways.
The patient's treatment methods are set individually during the initial step. However, there are
Bariatric surgery is used to manage type 2 diabetes as well as to lose weight in those who are obese. These procedures have been carried out in our clinic for a long time. In the "New life" Clinic, many patients began a new existence.
Give us a call