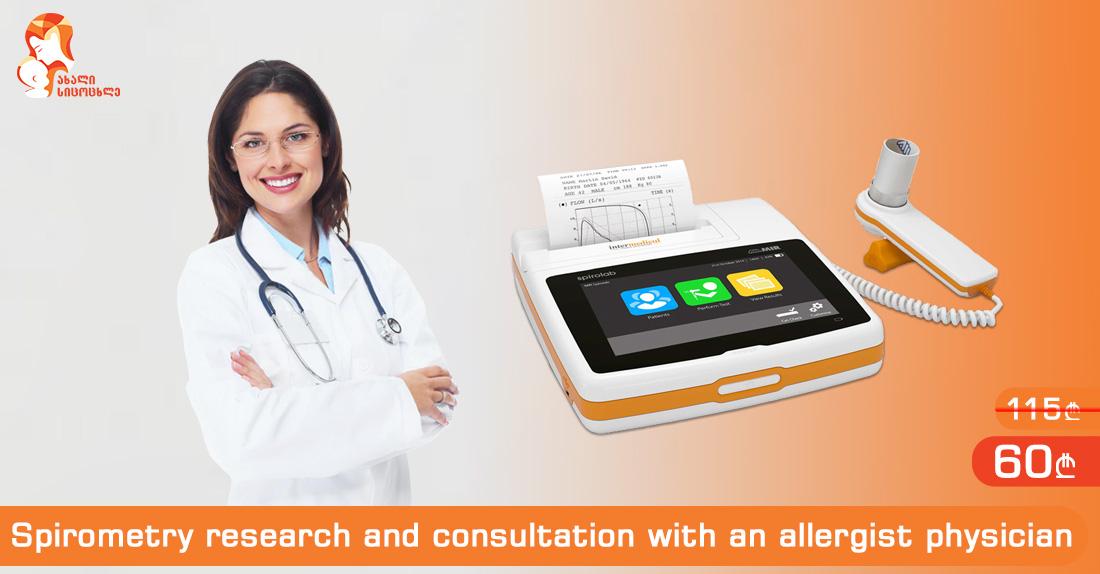 The "New Life" Clinic's promotion on diagnosis of respiratory system
Spirometry is a useful tool for studying external respiratory function. It is used to functionally diagnose and monitor the lungs' external respiration.
If you experience any of the following symptoms, get a spirometry test:
Chronic or recurrent cough and/or sputum;
Dyspnea;
Shortness of breath;
Noisy breathing;
Air failure;
Reduced labor skills;
Difficulty breathing and/or inhaling;
Chronic runny nose.
Also, the study is recommended :
if you are in a high-risk group due to smoking, genetic, or professional factors;
Prior performing cardiovascular and thoracic surgical procedures, examine the risk of predicted problems before anesthesia;
To manage bronchial pulmonary disorder diseases and assess its severity;
To monitor the treatment's efficacy.

You will conduct a spirometry research and have a consultation with allergist physician Teona Surmanidze, for 60 GEL instead of 115 GEL with the present promotion!
The promotion is valid every Monday and Wednesday!
To use the promotion, please pre-register in advance at 577 059 900 or 2 12 25 25 25 .
Wish you health!
Give us a call