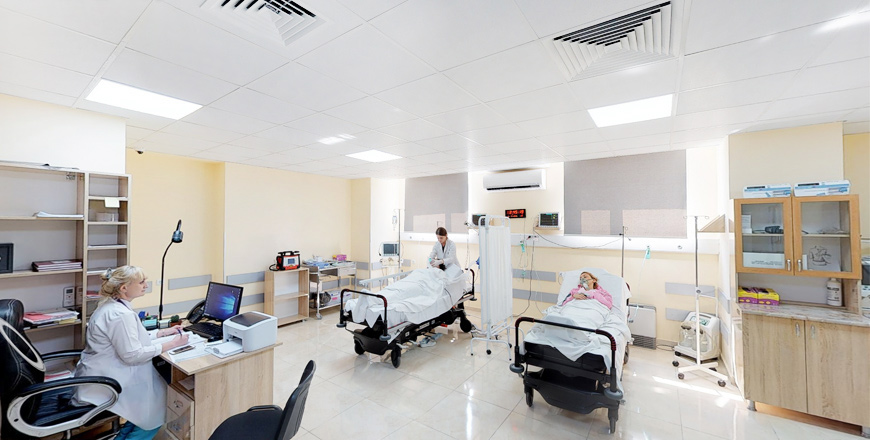 An Emergency Department is the gateway of the clinic.
It is a 15-bed department equipped with new functional and maneuvering hospital beds manufactured by the German company "Schroder".
Oxygen sources and monitoring system, which allows us to individually cardio-monitor every patient, are placed at every bedside.
The department owns all essential emergency equipment for resuscitation. Here, all types of equipment for emergency medicine and intensive therapy is available round-the-clock. The equipment includes ultra-modern X-ray machine, ultrasound machine APLIO 400 and APLIO 500, CT and MRI machines manufactured by TOSHIBA, "Shimadzu Trinias B12" biplane angiograph, which has been sold outside Japan for the first time and is the only one in the region (Transcaucasia), this allows us to do all types of endovascular manipulations and surgeries in the form of cardio, neuro and angio vascular interventions.
Within 24 it is possible to examine and place a stent in the coronary, brain and other arteries. This equipment is served by the experienced and professional specialists. The ultra-modern laboratory, which can perform all types of laboratory studies, functions round-the-clock without hindrance.
study and stabilize coronary, brain and other arteries. on the ground. Within 24 hours is working on all laboratory surveys.
The departments of Emergency, Outpatient, Surgery, Toxicology, Internal Medicine, Gynecology, Neurology and Neurosurgery, Hematology, Traumatology and Orthopedics, Intensive Care, Anesthesiology, Operating, Nephrology, Transplantation and Hemodialysis, Vascular, Plastic and Reconstructive Surgery, Cardiology and Interventional Cardiology, Endocrinology and Endocrine Surgery, Endovascular Angiology and Neurosurgery, as well as the center of Hemophilia and Thrombosis are successfully functioning at the National Center of Surgery.
The clinic has complete resources to manage the pathology of any complexity. Management of the patient in the clinic starts in the Emergency Department. All the departments and other structural units of the clinic work closely with the Emergency Department and solve together the most difficult tasks – triaging patients, diagnosing the patient timely, determining and implementing the treatment plan. As you know, timely and adequate emergency services and diagnosis contribute a lion's share to the victory of life and patient survival!
An internship system successfully works in the department, through which the professional growth and development of the staff are possible.
Ultramodern equipment and team staffed with professionals allow us to manage the most serious diseases and always care for the health of our population.