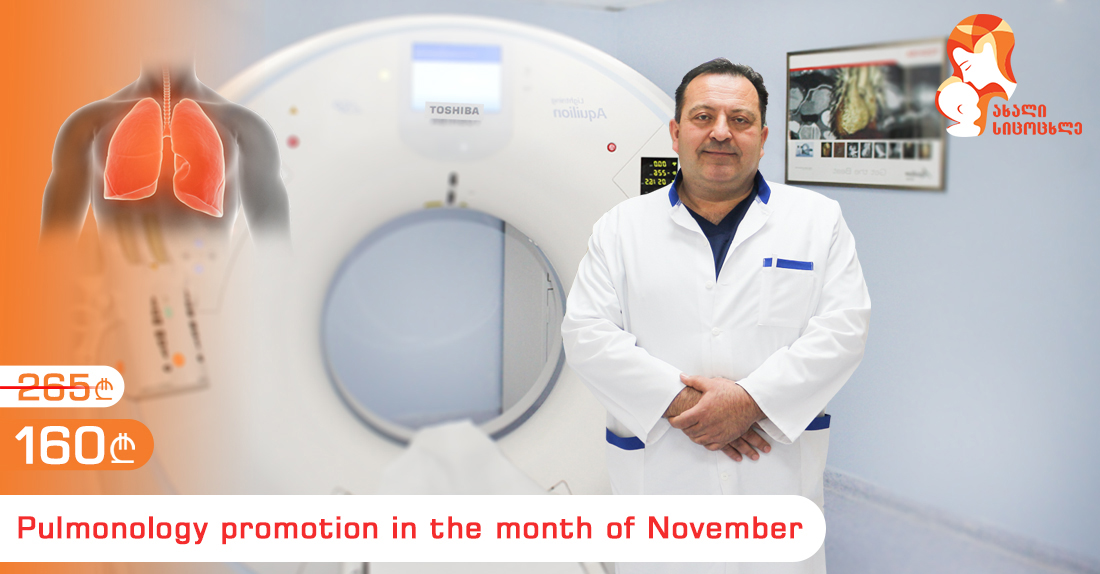 World Lung Cancer Awareness Month
It's World Lung Cancer Awareness Month in November. One of the most prevalent oncological illnesses in the world is lung cancer.
If at least one of the following concerns you:
Long-lasting coughing;
Bloody cough;
Shortness of breath;
Pain during breathing or coughing;
Decreased appetite;
Altered vocal tone;
Sudden weight loss.
Do not postpone seeing a doctor or doing the required research!
The ,,New Life" Clinic is running a promotion, in which you may receive the following for 160 GEL instead of 265 GEL:
Low-dose computed tomography of the chest;
Consultation of thoracic surgeon, Pulmonologist Zaza Lomidze.
The promotion is valid every Wednesday and Friday in November!
As part of the promotion, CT research is carried out using the most recent 160-layer device (TOSHIBA AQUILION LIGHTNING SP), which stands out for its high image quality, large size, quick scanning, and low radiation burden.
Please register in advance at +995 577 059 900 or +995 322 12 25 25 to take advantage of the promotion.
Wish you health!
Give us a call